Marilyn Scott And Her All-star La Band at An Die Musik Live
When
Thu, June 14, 2018
9:30 pm
About
Marilyn Scott - vocals
Russell Ferrante - keyboards
Jimmy Haslip - bass
James Harrah - guitar
Jimmy Branly - drums
The first-ever East Coast tour for the legendary LA jazz singer Marilyn Scott. Her most recent CD featured some great musicians and many of them will be in her band for the tour, including Yellowjackets co-founders Jimmy Haslip and Russell Ferrante.
Why do some artists thrive for decades in the ever-changing music world and others fade away so quickly? The reasons are myriad but there's one factor shared by all of the true survivors: originality. The key to longevity is having something to say, and being able to say it in a manner unlike any other performer....
Erin Connelly uploaded this event on June 9, 2018
Start your ticket shopping from Jazz Near You and you'll support us in the process. Learn how.
Marilyn Scott
Every Time We Say Goodbye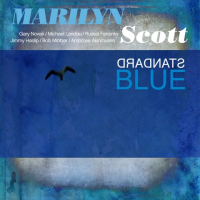 Prana Entertainment
2017
buy
Prana Entertainment
2014
buy
Venus Records
2008
buy
Prana Entertainment
2006
buy
Prana Entertainment
2006
buy
Prana Entertainment
2005
buy